The new Multivan is an extremely versatile and flexible vehicle. To make it even more unmistakable, you can choose from numerous extras or even complete equipment packages. Here you can find out what is possible.
A completely new exterior, but clearly a VW Transporter

Visually, the new Multivan follows the clear and timeless design of its predecessors – but interprets the functional form in a surprising new way. Just like the original VW Transporter, the optionally available classic two-tone paintwork is accentuated with an elegant chrome strip that stretches from the front to the rear. The wide front with a painted bumper and striking honeycomb structure emphasises the robust stability of the new Multivan, and the lower vehicle height makes it look even more dynamic. Of course, you can adapt the appearance of the exterior to your taste. The options include a choice of two different vehicle lengths, a variety of paintwork and new alloy wheels.
An interior to fall in love with

It was always what was inside that made the Transporter what it is today: one of the most popular family vans in its class. To make sure it stays that way, we've packed a lot of new features into the vehicle interior. And made the old ones even better. The result is that the seventh generation is even more digital, variable and functional. But the elegant cockpit design and innovative seating and driving comfort will also ensure that you enjoy every trip.
A state-of-the-art network: connectivity and infotainment

The new Multivan is more digital and connected than ever before, which means it's ready for today's world. This is impressively evident in the cockpit. In addition to the individually configurable Digital Cockpit and the large touch display for the infotainment system that allows you to adjust many different vehicle functions, there are also lots of other innovations: a new head-up display available on request, an integrated In-Car Shop and an optional premium sound system from Harman Kardon.
The new digital mobility

We Connect takes you into tomorrow's fully digital mobility today. The new Multivan has everything you need for this. All you have to do is activate the free We Connect services. After that, you can control many vehicle functions from your smartphone. For example, you can use the We Connect app to remotely check whether you have locked the doors, or easily find where your Transporter is parked using GPS. You'll see that it's never been easier to make your Multivan a fully connected all-rounder.

The services at a glance:

Automatic Accident Notification

Even more services, even more convenience

The convenience services of We Connect Plus add an always-on component to the We Connect basic services. Current traffic information is imported to the navigation system in real time. The anti-theft alarm is connected to your smartphone. And Remote Ventilation Control allows you to cool down your vehicle on hot days before you get in. But best of all is that depending on the infotainment system, We Connect Plus is available free of charge for a limited period.

Just some of the services:

Online Traffic Information

Remote Ventilation Control

Filling and Charging Stations

and many more

New features for the new powertrain

The new Multivan is available for the first time as an eHybrid (combined fuel consumption 1.6–1.5 l/100 km; combined power consumption combined 14.6–14.5 kWh/100 km; combined CO2 emissions 37–34 g/km; efficiency class: A+­+­­+). We Connect Plus provides the appropriate e-mobility services straight away. For example you can use the We Connect app to precisely specify when the battery is to be charged – if you want, we can also supply you with the ID. Charger, a suitable home charging station that is also connected to the network. You can also check the charge level on your smartphone and use timers to regulate the interior to a pleasant temperature before driving – on cold and on hot days. The E-mobility services are part of the We Connect Plus package.

Overview of services:

Unlock new functions

Even after purchasing a new Multivan, you can upgrade the vehicle with other functions, just as you already do with your smartphone. Simply go to the We Connect web shop or the In-Car Shop of the Infotainment system. There you will find We Upgrade functions that you can activate and immediately use in combination with your new Multivan – from ambient lighting with visualisation effects to Light Assist main-beam control and activating navigation for the Ready 2 Discover Infotainment system.

Currently available functions:

Voice control (as an on-demand function)

Light Assist main-beam control

Apps, data packages and much more

You can easily call up the In-Car Shop via the infotainment system. It's worth a visit. Here you will find selected apps, subscriptions and We Upgrade functions that will make your new Multivan even better. For example, there are Cubic Telecom's 2 GB, 5 GB or 25 GB data plans, which allow you to use the Streaming & Internet bundle of We Connect Plus, with Internet Radio, media streaming and Wi-Fi hotspot. Even more In-Car Apps will be available for you to download in the future.

Available from the In-Car Shop:

In-Car Apps, e.g. Amazon Alexa

Your personal assistant

You can download the Amazon Alexa In-Car-App from the In-Car Shop. Would you like to make your shopping list on the way to the supermarket? Quickly check tomorrow's weather? Or maybe turn up the heating before you get home? The voice assistance system works exactly the same way in the car as you know it from home. Just say "Alexa!" and you can access the whole Alexa universe. This way, you can keep your eye on road while you get on with things you would otherwise have to do later. All we can say to that is: "Thanks, Alexa."
The times are changing. And so are the powertrains. That's why the Multivan is now available for the first time as a plug-in hybrid (combined fuel consumption 1.6–1.5 l/100 km; combined power consumption 14.6–14.5 kWh; combined CO2 emissions 37–34 g/km; efficiency class: A+­+­+). The Multivan eHybrid offers you the best of both worlds: the range of a combustion engine and the CO2-free operation of an electric vehicle on short trips. This means that you can drive normal daily trips of up to 49 km on purely electric power, but you can also easily cover longer distances with the combustion engine switched on. Of course, the tried and tested TSI and TDI engines are still available. They have also been refined, and are now even more efficient and fuel-economical. But we've also taken a new direction when it comes to gear shifting. From now on, all gear shifts are triggered electronically via shift-by-wire. There's no more gear knob for the dual clutch gearbox, which means you have more space between the front seats.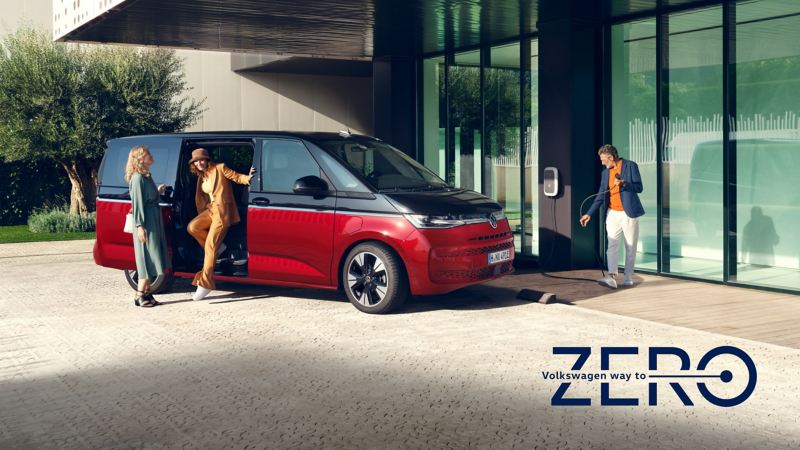 These packages have more for you

Lights on, lights off, wipers on and wipers off – this can keep you busy, especially in poor weather. The Light & Sight package takes the switching out of your hands, and also offers a few more interesting features.

Intermittent windscreen wipe

Interior safety mirror, automatically dimming

Daytime running light control with automatic lighting control

Coming Home and Leaving Home function

With the Easy Open package, you open your new Multivan as if by magic. You only have to have the key in your pocket and hold your foot under the sliding door or the rear lid. Abracadabra.

Electric sliding doors with Easy Open function

Electrically operated rear lid with Easy Open and Easy Close function

Keyless Advanced locking and starting system without SAFELOCK

30-colour surround lighting on the rear lid and background lighting

Children like to be kept busy. That's why the Family Package combines selected extras that turn even long motorway journeys into fun trips. A multifunction table with three drink holders, drawers under the seats and two waste bins offer enough space for everything that the kids may get hold of and needs to be put away somewhere.

Drawers under the outer seats in the passenger compartment

Power closing for both sliding doors

Sliding windows in both sliding doors

Multifunction table/centre console with three drink holders, movable throughout the vehicle

Dark tinted windows in the rear, heat-reflecting privacy glazing, 65% light-absorbing

The exclusive Top package lets your new Multivan shine in a completely new light. It includes several very attractive features, some of which are available for the first time, such as the tilting panoramic sunroof and IQ.Light.

Tilting panoramic sunroof (90% darkening)


IQ.Light LED matrix headlights with LED daytime running light

Dynamic Light Assist for LED matrix headlights

Daytime running light control with automatic lighting control

Coming Home and Leaving Home function

Dynamic headlight range control with dynamic cornering light

Tinted LED tail light clusters

Air Care Climatronic 3-zone air conditioning system with additional control panel in the passenger compartment

Intermittent wipe with rain sensor for windscreen wipers

Interior safety mirror, automatically dimming

Sun visors with mirrors, light, ticket holder on the driver side