Fully connected, all-digital

Fully connected, all-digital

Words by
 Volkswagen Aktiengesellschaft
Photography by
 Volkswagen Aktiengesellschaft
The fully digital, interactive Innovision Cockpit¹ in the new Touareg sets a new milestone in communication between driver and vehicle.
Where innovation meets vision: the Innovision Cockpit, as the new Touareg's central control and communication unit is known, is aptly named. Innovative technology gives drivers a complete overview of key information at all times. A 30.5 cm (12.3 inch) digital instrument cluster (Digital Cockpit) behind the steering wheel displays a virtual speedometer, route guidance information and the new optional Night Vision assistance system, which (subject to system limits) can detect people and animals on the sides of the road after dark or in low-visibility conditions using a thermal imaging camera, and if necessary alert the driver.
Switches, dials and buttons are now a thing of the past: voice and gesture control and the 38 cm (15 inch) Home Screen touch display in the centre console guarantee maximum ease of use. The Home Screen is curved towards the driver and can be customised with images and favourite functions. Its digital layout includes an interactive, customisable status bar (top of screen), an interactive temperature control block (for Climatronic and seat functions), other function tiles (one large central tile and four smaller, freely assignable tiles), freely assignable favourite buttons (left of screen), selectable clock designs and a 3D model of the car and seats. Together, the Digital Cockpit and Home Screen make up a large interactive interface for controlling basic functions, any installed assistance systems and infotainment options.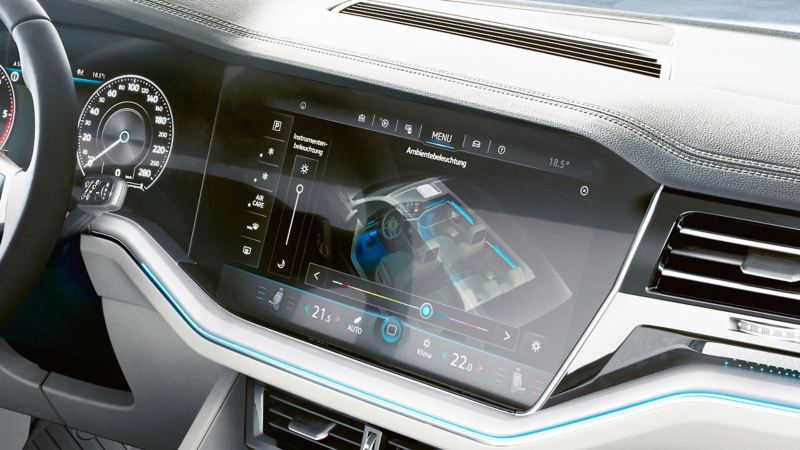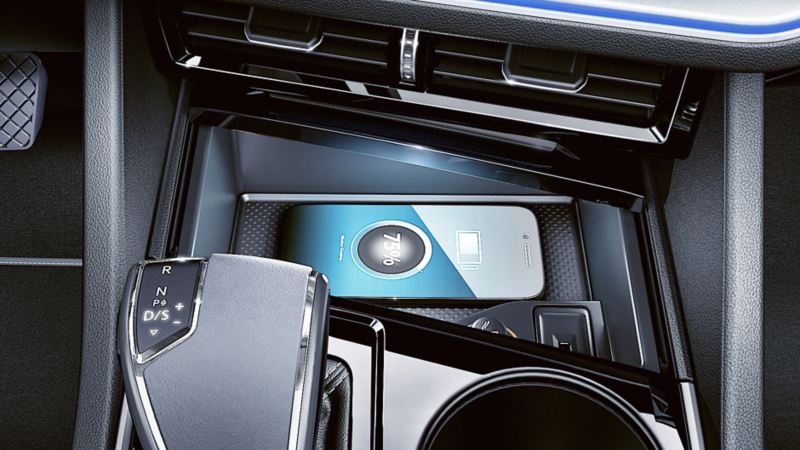 Another optional high-tech function provides Touareg drivers with even more information at a glance: the Head-Up Display projects a virtual overview of key information in the lower half of the driver's field of vision, without obscuring their view. From the driver's perspective, the information and warnings appear to be on the road ahead of the Touareg; technically speaking, however, they are projected onto the windscreen from the inside.
In terms of configuration, the Innovision Cockpit has three components: the Digital Cockpit, the infotainment system Discover Premium and the Business telephone interface with an inductive charging function for smartphones and four USB ports. The integrated Car-Net app App Connect allows drivers to transfer apps from their smartphone onto the big touchscreen. All three standard operating systems are supported: MirrorLink, Apple CarPlay and Android Auto. Passengers can also control infotainment during their journey using a tablet or smartphone: with the Volkswagen Media Control function, for example, passengers can choose the music from the back seat. There are USB ports in the front and back for charging mobile devices or connecting them to the infotainment system.

1 Optional equipment at additional cost.