Make an impression. Without making an impact.
The Volkswagen ID. R stands for the forward-looking electric mobility and its uncompromising performance potential. In 2018, the emission-free race car was able to meet these demanding standards by setting a new record in the legendary Pikes Peak International Hill Climb.

But that's not all. Now the best time for electric vehicles has also been beaten on the most demanding racetrack in the world: the 20.8 kilometre-long Nordschleife of the Nürburgring. With a time of only 6:05.336 minutes, the Volkswagen driver, Romain Dumas, was 40.56 seconds faster than the previous best time clocked by Peter Dumbreck.

Successes such as these are the best evidence that it is possible to make an impression without making an impact. #challengeacceptID
Think ahead of curves. And generations.
The ID.R's most important role is not to break the records on the world's toughest tracks. Its biggest challenge is to act as a role model and pace car for a whole generation of electric vehicles to come.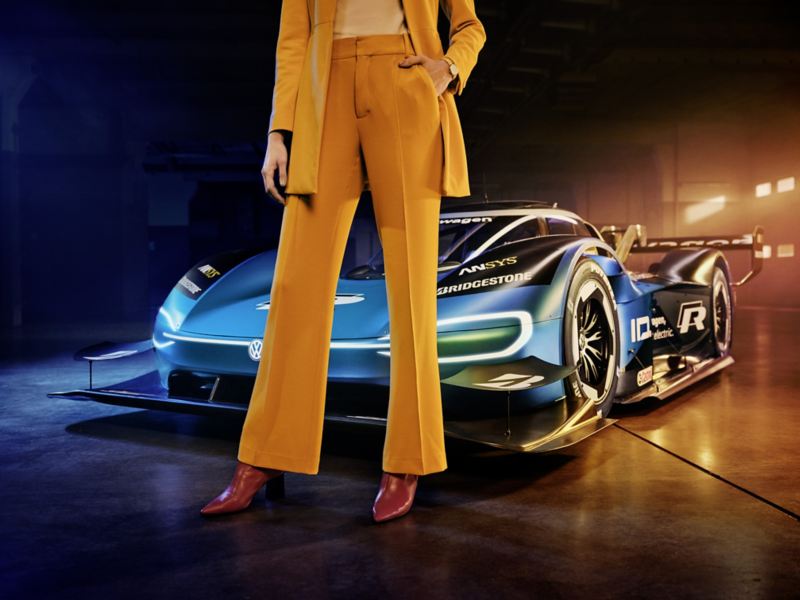 Race the fastest. Think the furthest.
When you want to break records you don't only need a fast car. You need technical development that progresses even faster. Production cars have always benefitted from ideas aquired in motorsports. In the highly dynamic field of electric mobility that is even more true. And so every mile the ID.R runs also sets the pace for the other ID. models.