A strong team for almost any weather

A strong team for almost any weather

Photography by
 Anna Bauer
The Scottish Highlands are unique: a wild and weather-torn mountain landscape like nowhere else in the world. To master the challenge of this landscape, you need a good dose of self-confidence – plus a mountain guide like Andy Nelson and a car like the T-Roc that you can rely on in almost any situation.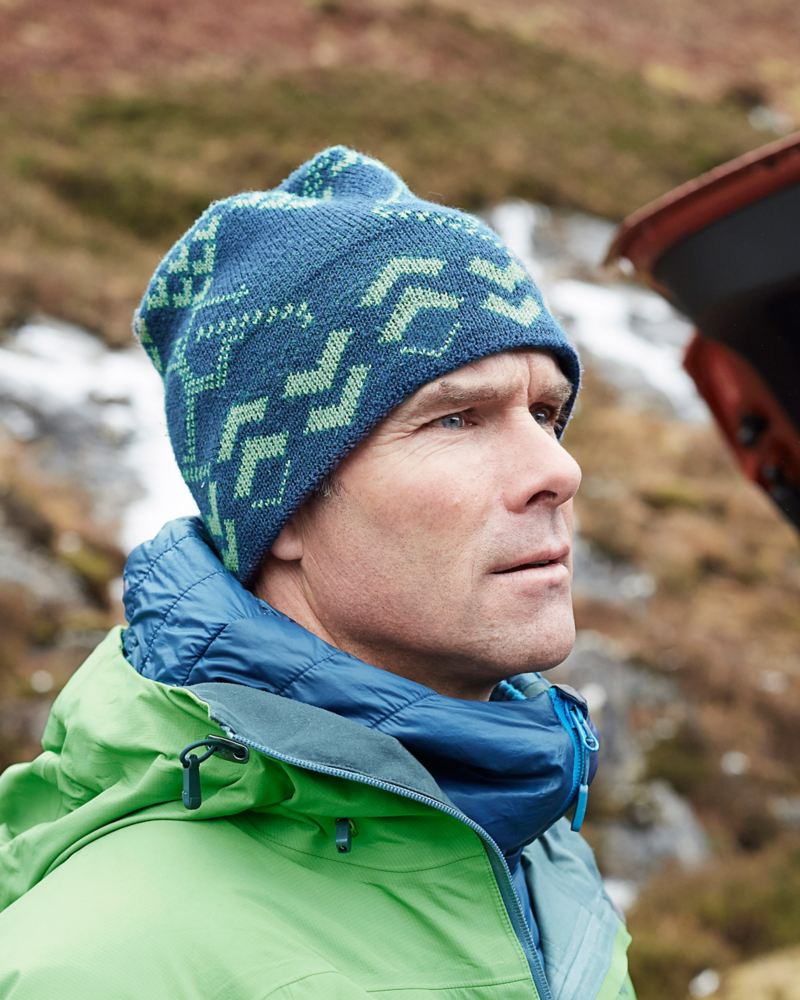 A light snow begins to fall. The clouds have descended in a matter of seconds and spread out over the valley like a strip of cotton wool. Below, visibility is unobscured. The mountain panorama looks like a photomontage. At the top a soft-edged black-and-white picture, at the bottom brown and green in all their different shades. The dramatic beauty of the treeless mountains, the light conditions, the rapid alternation between mist and absolute clarity, have made Scotland's Western Highlands into one of the most popular filming locations for Hollywood blockbusters. Whenever they want to make a scene truly monumental, directors head to Glencoe or Glen Etive, near the mouth of the River Coe in the sea loch of Loch Leven. It's the perfect environment for a vehicle that has the self-confidence to master challenging terrain in every fibre of its being. We want to see how the T-Roc fares when Scotland unleashes its speciality: extremely challenging weather against a spectacular backdrop. Because bad weather doesn't just affect the views, but also (and above all) the road conditions.
The Scots tend to regard the majestic landscape with wry humour ratherthan awe. Mountain guide Andy Nelson explains that one mountain with a striking silhouette is known in Scots Gaelic – a "highly figurative language", according to Andy – as Sgurr na Cìche, the "peak of the breast". In English, it's called the Pap of Glencoe: the "breast of Glencoe". Andy originally comes from northern England, but moved to the glen at the age of 18 because of the mountains. He has now been living and climbing here for three decades. We visit him at the Glencoe Mountain Rescue Centre and marvel at the snow-capped ridge in the background, which for a brief moment lights up gloriously in the sun.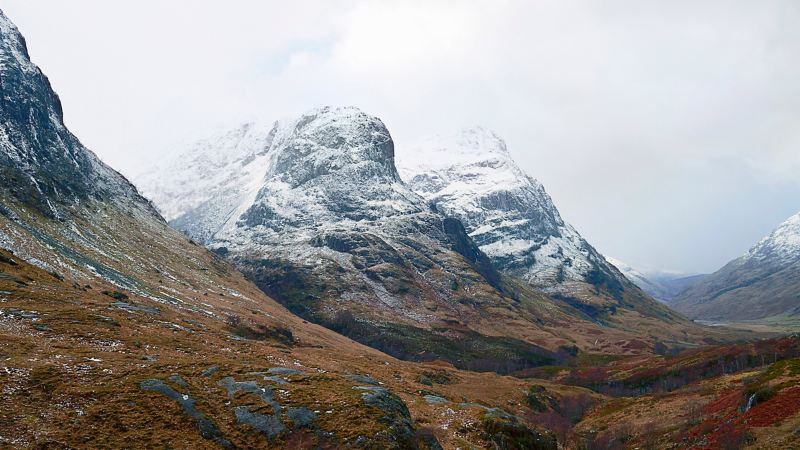 The perfect environment for the T-Roc, which has the self-confidence to master challenging terrain in every fibre of its being.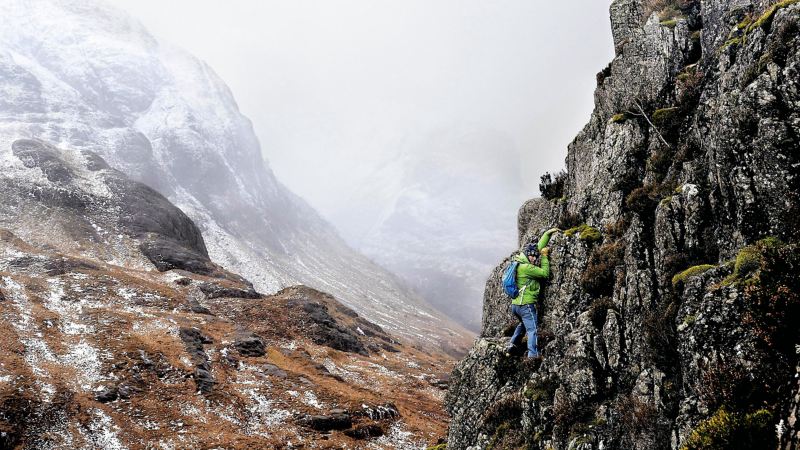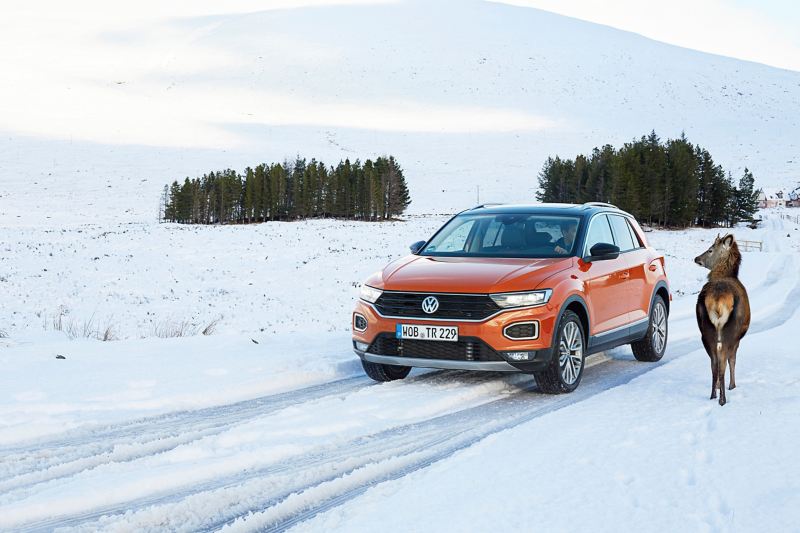 Deep in the Highlands
At a height of 742 metres, the Pap of Glencoe is not a true mountain or "Munro". A Munro must have a height of at least 3,000 feet, equivalent to just under 915 metres. Anything below that is classified as a hill. There are 282 Munros in the Scottish Highlands. The tallest of them is Ben Nevis (1,345 metres). It was mainly due to climbing accidents on Ben Nevis that Glencoe Mountain Rescue (of which Andy is a member) was founded over 70 years ago.

Andy, a Volkswagen fan, is thrilled to be able to "test" the T-Roc Style TDI 4MOTION for his day in the mountains today. His own car is a T5 TDI, which he chose because it offers plenty of space for all his rescue equipment. Today, Andy only has a walkie-talkie and climbing gear with him for a mountain day tour, so the compact, sporty T-Roc is just the ticket. With its striking coupé line, the T-Roc defines a new type of vehicle: the CUV, with the C standing for both coupé and crossover. With a power output of 110 kW (150 PS) (fuel consumption in l/100 km: urban: 5,6 / extra-urban: 4,8 / combined: 5,1; CO₂ emissions, combined, in g/km: 134; efficiency class: B), sports mode, all-wheel drive as standard and optional dual-clutch gearbox, the T-Roc is designed for active driving – and Andy is most certainly an active driver. He puts his walkie-talkie and climbing gloves on the contrasting-colour leather seat next to him, and then sets off.
We all want to go out into nature and have fun. But if you want to achieve your goals, you need to be good at what you do.

Visit:
In Glencoe Mountain Resort, there's a chairlift operating all year round that will take you up to an altitude of approx. 700 metres in just 12 minutes. From there, you can continue the trek up to the peak. A wonderful day tour with spectacular views.
 
Indulge:
The Clachaig Inn is located opposite the turning to Glen Etive. It's a place where ramblers and locals mingle. The pub offers rustic fare and a very friendly atmosphere.
 
Explore:
The partially unpaved road, which has served as a shooting location for several Hollywood blockbusters, winds its way into a deep valley: Glen Etive. Simply follow the road to get some breathtaking views.
"Glencoe is a complex mountain landscape with difficult terrain. There are lots of gorges, cliffs and rockfaces. Outsiders tend to underestimate the weather, especially the wind. If the wind is blowing at 50 mph at sea level, and that's not unusual, then at an altitude of 1,000 metres it'll be three times as much: 150 mph or almost 200 km / h. If you get rain or sudden snow on top of that, climbers can lose their bearings," says Andy. That's the main reason why the members of Glencoe Mountain Rescue get 80 to 100 call-outs per year.
If Andy is on call, the police could ring him at any time to report an emergency. He's missed a few children's birthdays and social gatherings as a result. That's less of a problem for him than for his family, since for the mountain rescuer every SOS call means instant adrenaline. "If the police report an emergency call, we get in touch with the caller and attempt to establish their current location. For example, we get them to describe a distinctive rock formation that they can see. If we can't tell where they could be, we ask Walter." The shepherd Walter Elliot Sr is the founder of Glencoe Mountain Rescue. His sons Walter Jr and Willie, both also shepherds, joined in the 1950s. Walter Sr, now 86 years old, is as sharp and alert as ever. He lives at the foot of the glen in the house where he was born, which is now preserved by the National Trust for Scotland. His memory is photographic. He knows every rock, every gorge, every contour in the area. And he knows them in every season too: in the green of summer, in the rusts of autumn, in the snowy white of winter. Walter is a living map of the glen. Andy explains how a typical call-out goes: "Due to the mountain rescuers' knowledge of the area, it takes us an average of just 15 minutes to locate the lost or injured person and get to the site of the accident. One team sets off in their own cars immediately, a second sets off in a van afterwards. If necessary, we send helicopters."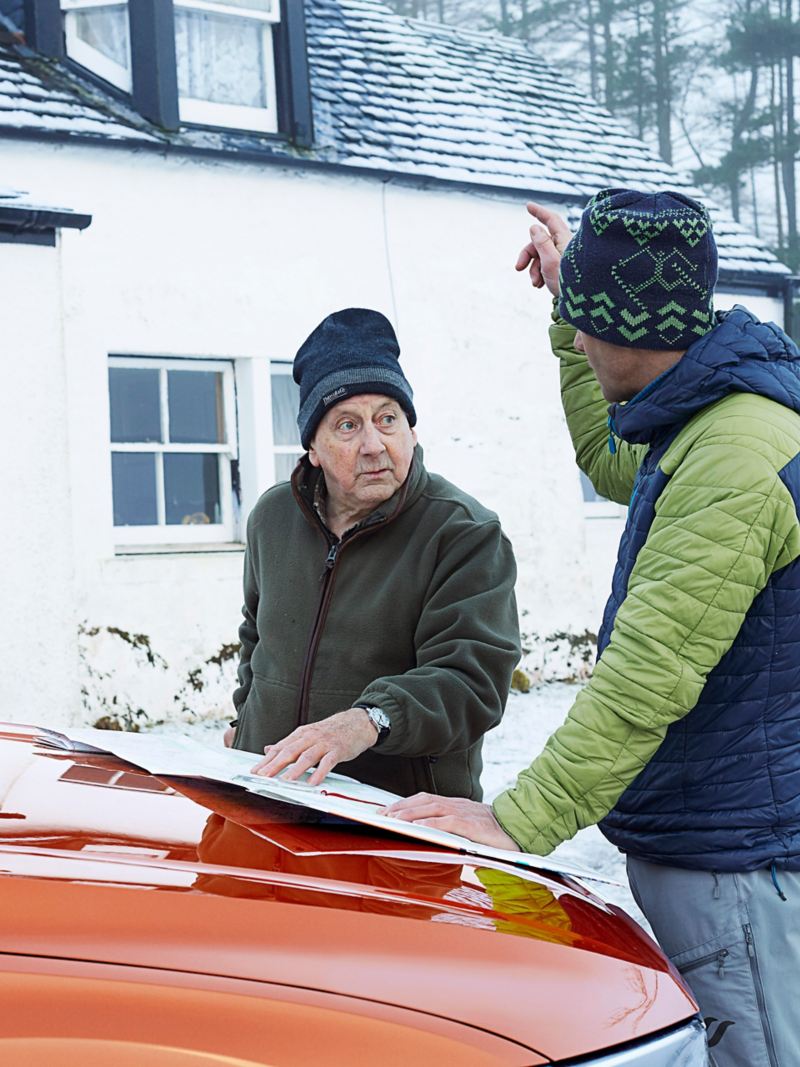 For almost any terrain
But even when it's not necessary to make an emergency call, the glen's terrain can still be challenging – and not just for climbers. Within the space of a few hours, the mountains can be covered with snow, an avalanche can roll over the roads or thawing ice from the mountains can suddenly flood a section of the route. As a result, the road conditions are highly variable. Surfaces can be slippery, wet, icy (in the valley the rain can freeze to the road) or covered in snow. Often, you simply have to turn a corner to find a completely different road ahead. The selfassured, compact T-Roc is a reliable partner for such challenges. That's due in particular to the 4MOTION Active Control dial on the centre console, which can be set to different conditions such as snow or offroad. Andy carefully tests what the CUV is capable of. He drives athigh speeds, slams the steering wheel to the right and left, and brakes abruptly. It's the same approach that, as an experienced mountaineer, he takes to climbing: testing the surface and then going as far as possible. "Feeling confident in the mountains is a product of experience, good training and learning from previous mistakes." After 30 years climbing the mountains of Europe, from the Alps to the North Cape, Andy knows what he's talking about. "For a climber, the key to success is trusting yourself. We all want to go out into nature and have fun. But if you want to achieve your goals, you need to be good at what youdo." And you need to be dependable and confident in your strength, even in difficult situations. If you have this self-assurance, you'll be a good mountaineer. And only then can you be an effective and reliable part of a team."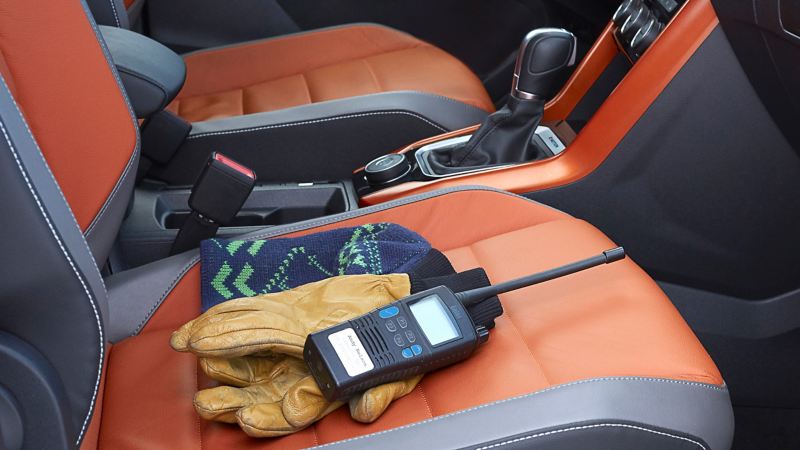 On some days, Andy loves spending time alone in the mountains. "My attention is completely absorbed. I forget everything else going on in the world. I often come across places without any traces of people or civilisation. That's really special. The level of challenges in the Highlands can be pretty extreme." And he adds: "The mountains are on the small side. But the experiences are immense."