Words by
 Volkswagen Aktiengesellschaft
The love story between a South African and a German literally bore fruit in the renowned wine region of Stellenbosch: they were both fulfilling their dream of having their own vineyard. With the Tiguan Allspace, we were guests at "Kunjani Wines" and experienced a place that has become a home for immense talent and outstanding wines through warmth, passion and curiosity.
"When Paul and I got to know one another at a family get-together in Germany, he didn't speak my language – and I didn't speak his," explains Pia Watermeyer. They fell in love nonetheless: the German entrepreneur Paul Barth who grew up among the vines in the Rheingau, and Pia, the owner of an advertising agency in Cape Town. When it came to winning over his dream woman, no barrier would stand in Paul's way. Least of all a linguistic one. The pair bought dictionaries, chuckled about each other's dialects, had friends translate for them over the phone – and visited one another on two continents. In short: the time they spent getting to know each other was as adventurous as it was romantic. "We were both familiar with the word 'Kunjani', however, from the very beginning," remembers Pia. Paul knew it because he was an ardent fan of South Africa even before Pia came into his life. And because everything began with this "Kunjani", which means "Hello, how are you?" in Zulu, we now find ourselves at a vineyard called "Kunjani Wines" – owned by Pia Watermeyer and Paul Barth.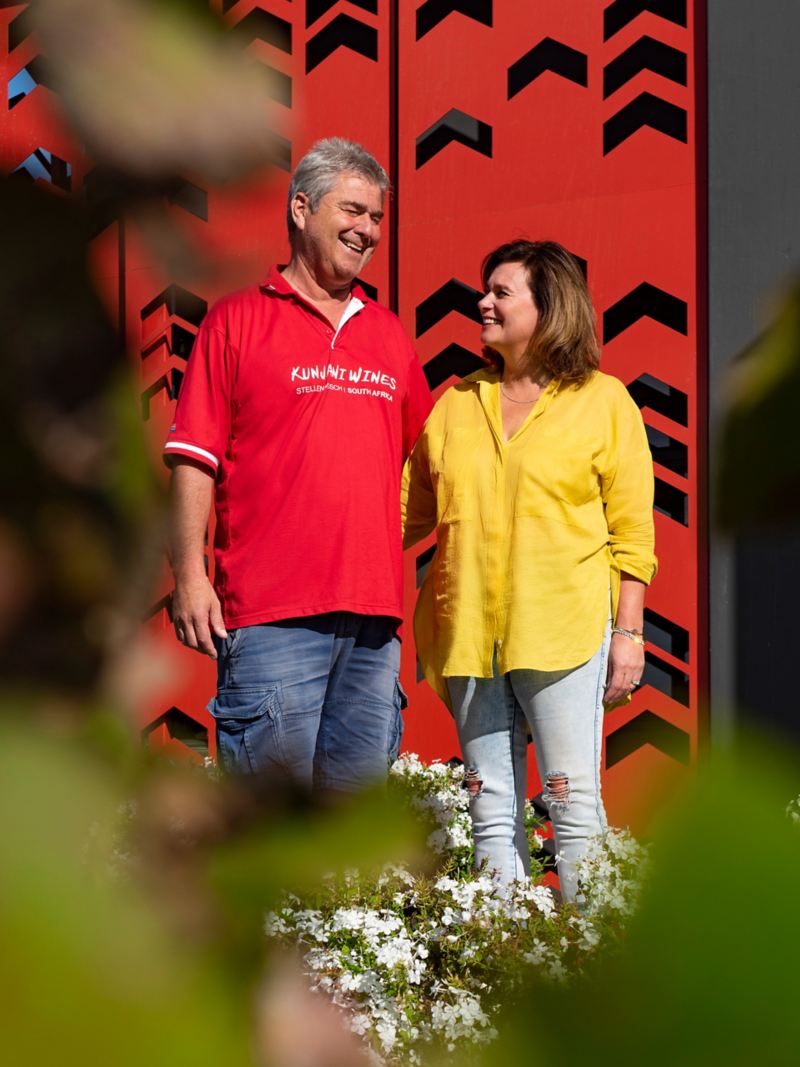 Paul Barth & Pia Watermeyer
They bought their vineyard in 2012; a year later, they moved there and turned everything upside down. Since 2018, "Kunjani Wines" has been complete. But you never know with Paul. "I'd like to open a Straussenwirtschaft, which is a simple, traditional seasonal tavern I know from the Rheingau."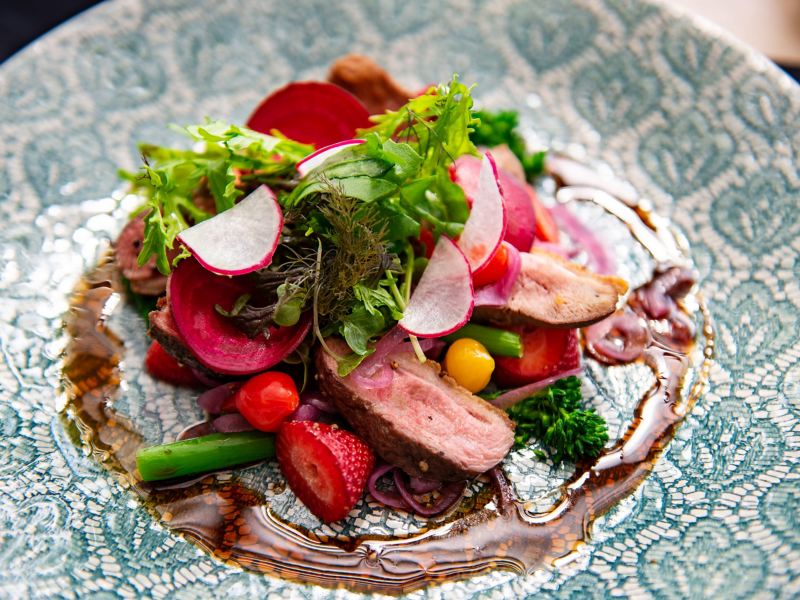 A professionally run arable farm with award-winning wines, a gourmet restaurant, four cottages with modern furnishings: what was initially envisaged first and foremost as a shared home – and a hobby for Paul coming from a family of winegrowers – is now much more for both of them. And a top destination on the region's wine scene. Inspired by their surprising success, they gave up their previous companies (a workshop in the Rheingau and an outdoor-advertising office in Cape Town) to focus fully on their shared adventure.
At lunchtime, it isn't just wine lovers who come along for a tasting, but also fans of chef Lamek's excellent cuisine. "Lamek is a champion – at the stove and in person," raves Pia. "I am thrilled every single day that we were able to land him for our restaurant." Lamek's cuisine is all the more impressive because he manages to use only sustainably produced, local ingredients. Every fish on the Kunjani menu can be found on the so-called green list of the "South African Sustainable Seafood Initiative (SASSI)" for sustainable fishing; herbs and vegetables come from the restaurant's own garden. Premium ingredients are non-negotiable for Lamek – he uses them to conjure up seasonal menus that are full of colour, imagination and extravagance. He finds fresh inspiration all the time and will spontaneously add something extra to the menu, which of course pleases the regulars.