Networked, digital, masterful – the new Touareg

Networked, digital, masterful – the new Touareg

Words by
 Benjamin Seibring
Photography by
 Marvin Zilm
Today, innovative entrepreneurship and new management models are in demand. The world of work is changing. In his company GoDutch, Zurich interior architect and designer Nader A. Taghavi achieves flat hierarchies and thus shortens decision-making processes. At the wheel of the new Touareg, he explains why design, comfort and innovative mobility are indispensable for him. 
Zurich – the new Touareg on the streets of the fashionable neighbourhood of Wiedikon. At the wheel is interior architect and entrepreneur Nader A. Taghavi. He stops in front of a warehouse to pick up a chest of drawers. It is part of a new project. Soon, the piece of furniture is stowed away in the spacious boot. Before heading to the wood workshop, the 52-year-old drives the Volkswagen flagship, the Touareg in Pure White1, to his favourite cafe. The sun is shining, Taghavi gets out of the car and looks for a quiet spot. "My working day starts with a coffee and lots of pictures. I dream up stories about people and spaces. I first let myself be inspired before I start work," says Taghavi.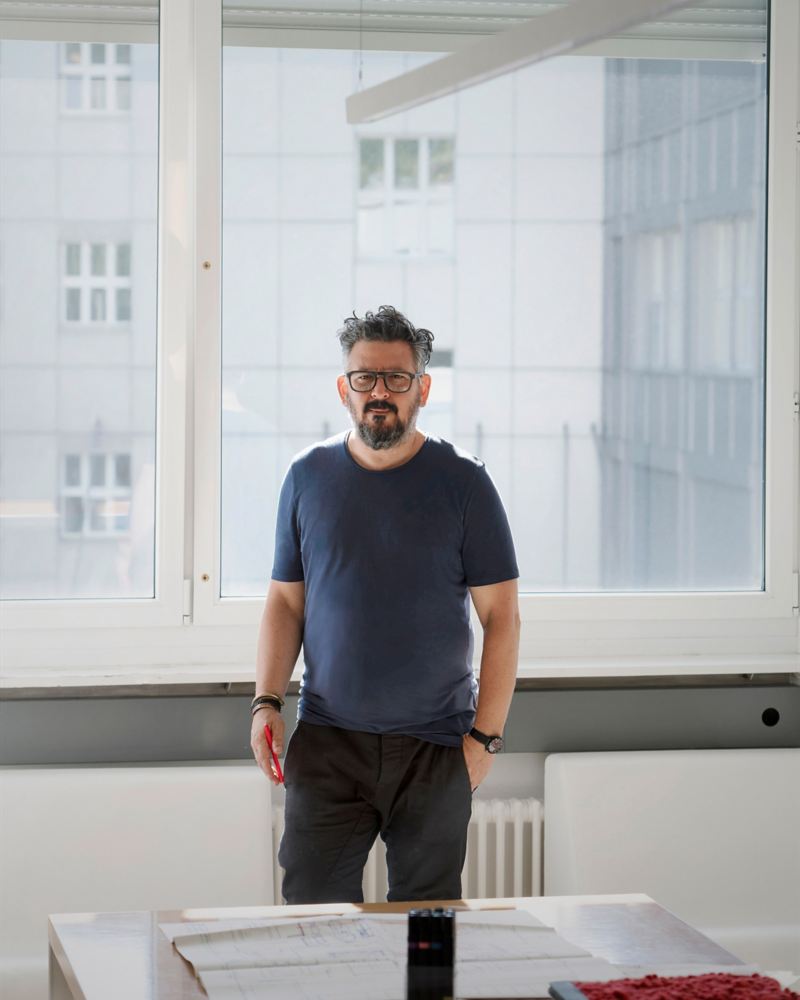 My working world has become much more mobile. Partners and colleagues operate from various places. I therefore also travel a lot and use digital communication channels.

A collegial management style.

His company GODUTCH is located in the same part of town. "Every project begins with those stories. We talk to our clients to develop an understanding of the respective brand and company."
In his company GODUTCH, Taghavi gathers together architects, designers and exhibition designers. "I would describe my management style as collegial. Even if I am the owner, I see myself as part of a team in which each person has their role and area of responsibility. In the end, we pool all our expertise and ideas together – thus, projects at work can be implemented successfully and enjoyably."
Workplace of the future.

Nader Taghavi is in constant discussion with colleagues, customers and partners. His job requires availability and mobility. "I'm on the road a lot. I have work orders in many different places. This is another reason why the car has become my second office – I communicate on the go and need immediate access to my papers and documents." Taghavi pulls out his smartphone – one of his most important work tools – and connects it with the vehicle.
With the Innovision Cockpit1, Taghavi finds the ideal conditions in the new Touareg. Here, the digital instruments and 38 cm (15 inch) recessed touch display combine to form an operating, information, communication and entertainment unit. Switches and buttons have almost completely disappeared. The display mirrors Taghavi's smartphone. So, even here, he can call up all the functions he needs for his day-to-day work. "I can look at pictures and notes and use the telephone function via voice control."
I'm on the road a lot. The car has become my second office. With the Innovision Cockpit1 in the Touareg, I can call up numerous functions that I need for my day-to-day work.

Multifunctional space.

Taghavi approaches many of his tasks in line with the principle of sustainability. And "BrandGym", a meeting place in the Bern headquarters of a major Swiss communications company, is no different. On the display of the Innovision Cockpit1, the interior architect shows images of his incredibly interesting project. "We searched for objects – existing and used items – from which we have created new objects with new functions. These can be pieces of furniture that we find at antique dealers and restore. But it can also be thousands of discarded tennis balls that now function as sound protection and form the basis for items of furniture. Ultimately with 'BrandGym', a multifunctional space has been developed as far as possible from upcycled materials," explains Taghavi.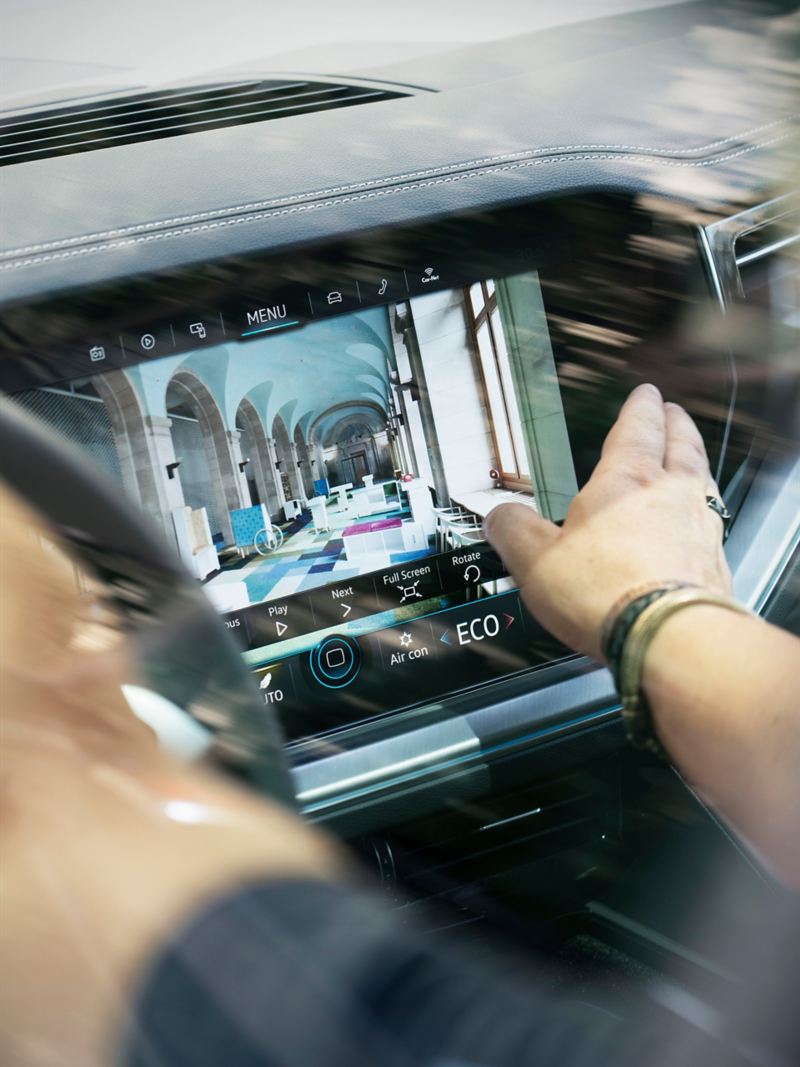 The Touareg opens up new style themes. A cool, high-tech look, warm wood and leather tones, or sporty details – with the design packages "Elegance"1, "Atmosphere"1 and "R-Line"1, there is something for everyone.

The interior as a space for inspiration

The interior of the Touareg offers a wide range of design possibilities. Thus, various customisation options should meet individual tastes. For equipment line "Elegance"1, leather seats and applications, as well as decorative inlays in brushed aluminium, make a clear statement. "The interior of a car is a limited space in which we spend a lot of time. It is important to me that I can also be inspired here. The Touareg offers me this possibility in terms of design and comfort. You come into contact with the materials, which is why their quality is very important to me. The generous panoramic roof1 impresses me in particular. It establishes a connection between the interior and the outside world. This facilitates much freer thinking," explains Taghavi.
A new level in terms of dynamism and space.

Taghavi drives the Touareg with a six-cylinder V6 TDI SCI 4MOTION engine (fuel consumption in l/100 km: urban: 7.7 / extra-urban: 5.9 / combined: 6.6; CO₂ emissions, combined, in g/km: 173; efficiency class: B) and 210 kW (286 h.p.) out of the town. On a country road in the outskirts of Zurich, the SUV shows off all its versatility. The Touareg is supported by a large number of intelligent assistance systems1. "The dynamic SUV exterior design is consistent with the driving dynamics. I can well imagine taking longer journeys with this vehicle," enthuses Taghavi.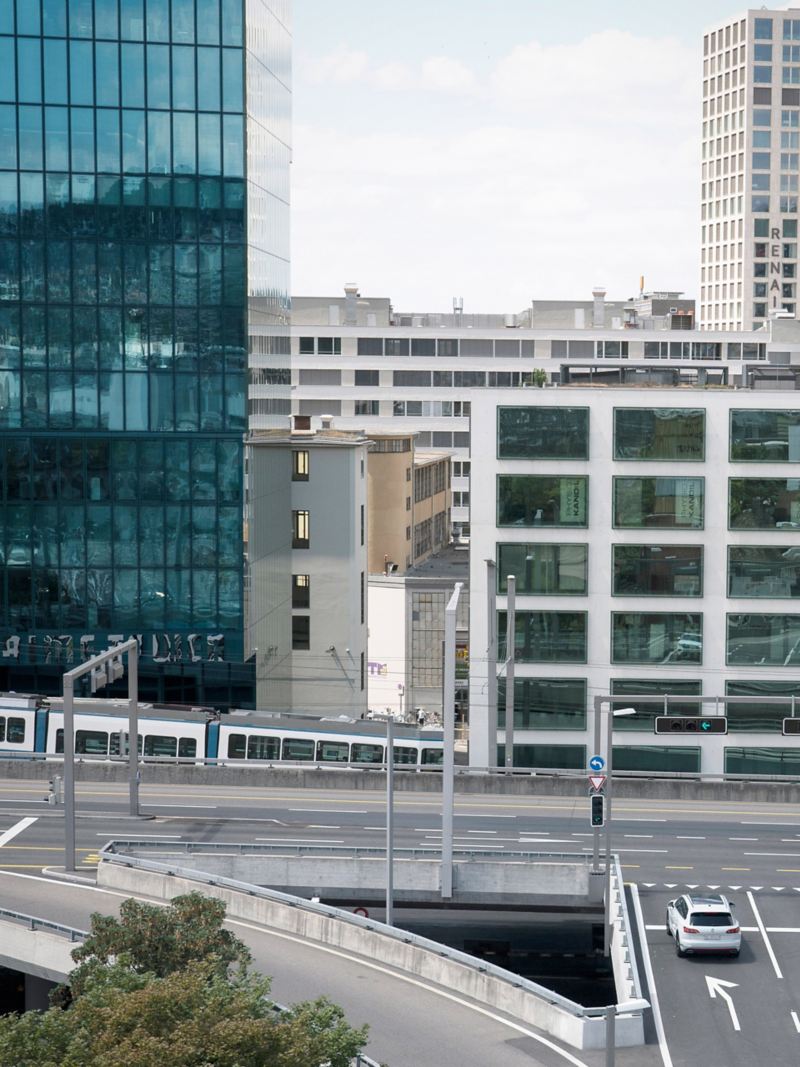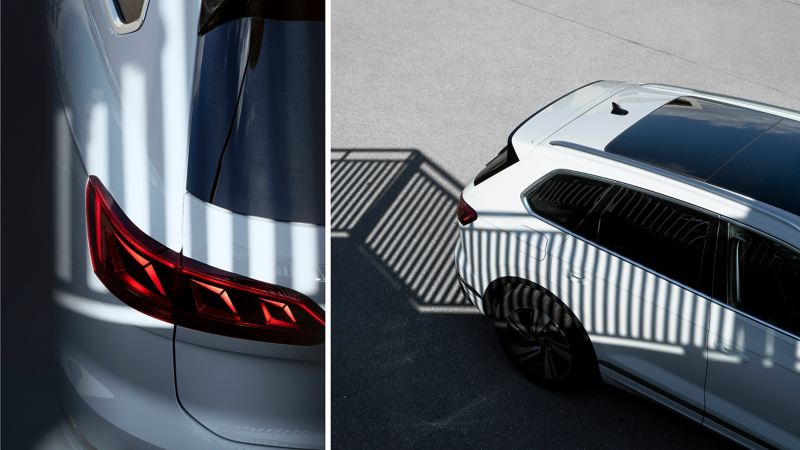 The Touareg comes to a halt in front of the "Feuerholz" wood workshop in Bülach, close to Zurich. Taghavi accompanies projects from their conceptual design to the finished installation. Today he wants to deliver the chest of drawers for restoration. "The car has become indispensable for me. I transport a lot of materials. I am often not looking for furniture or other things at all but find them during my trips out. Then I spontaneously need sufficient storage space to be able to take them straight away," explains Taghavi, briefly holding his foot under the tail. The luggage compartment door unlocks and opens as if by magic. "Function has a lot to do with comfort. The 'Easy Open' feature1 is another comfort component that supports me in my business activity," says Taghavi. The boot offers a volume of approximately 810 to 1,800 litres – in addition to the chest of drawers, there are also plenty of other materials here.
The new Touareg has grown in every dimension. Outside, it sets new standards with its expressive and forward-looking design. Inside, it impresses with many individual design possibilities. "The design always serves comfort. It should simplify things and fulfil functions. With the Touareg, I can now work on the go because I can find all the technical requirements and conveniences there," sums up Taghavi before climbing in and driving to his next appointment in Zurich city centre.
Experience high-level comfort, driving fun and innovative technologies – configure your Touareg in line with your personal wishes and requirements here.
1  Optional equipment available at an additional cost.