Welcome to the land of electric cars.
Welcome to the land of electric cars.
Why are the Norwegians in particular such big fans of electric cars?
How practical is electric mobility for everyday life? How complicated is it to charge an electric car and how far can you get on a single charge? For lots of people, electric mobility has already become the norm and a permanent part of everyday life. As is the case in Norway, for example. This piqued our curiosity, so we decided to travel to Scandinavia and ask residents directly why they are so amazingly open-minded when it comes to electric mobility. Their attitude is quite a surprising one considering the country is known for its long distances and relatively few residents.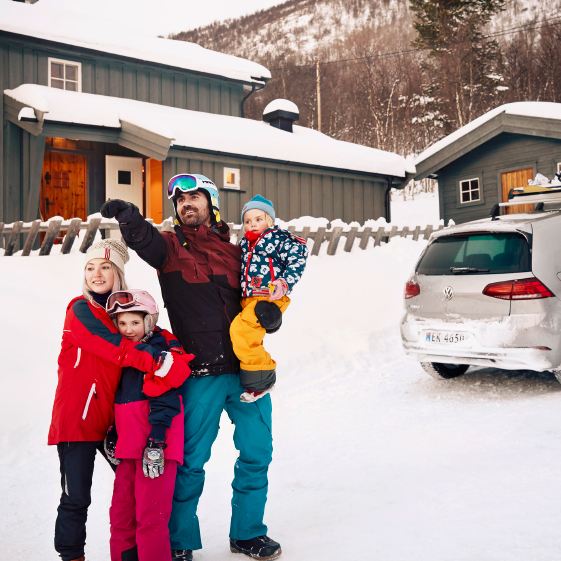 At one with nature: eco-conscious living.
We started by speaking to Thomas. He revealed that he is almost constantly out and about, whether he's partaking in some outdoor sports or taking a trip with his family. And when we asked why he drives an electric car, he gave us a pretty obvious answer: "The main factor that persuaded me to switch to an electric car was that the performance could be just as good as a petrol-based one. Now I would never drive a petrol car again!" Thomas, whose surname "Rolland-Herskedal" means "Master of the valley", works as an IT project manager. You're most likely to find him outside – snowboarding, surfing or fishing. The car that takes him on his family trips and outdoor sporting adventures – often over mountainous roads – is an e-Golf. "I love being out in nature: the calmness, the fresh air, the sounds, the smells. It is the perfect place for a bit of peace. When my children think about me in the future, I want them to remember that we always placed a great deal of importance on showing them the natural world. Provided the country has electricity, then an electric car is simple. Personally, I believe strongly in protecting nature. Electric cars are part and parcel of this for me."
Simply straightforward: the switch to electric mobility.
Just like Thomas, Kristian is out and about a lot, too. What's more, the art lover also takes a natural and worry-free approach to electric mobility. Find out just what it is that Kristian loves so much about his e-Golf.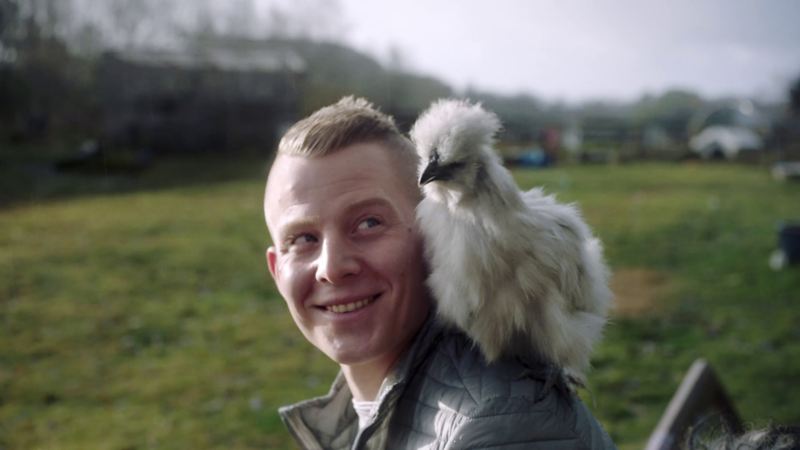 When we met Kristian from Bergen, one thing became clear straight away: this is a man with a lot of energy and a wealth of interests. This is probably why he decided to start by revealing how he manages to combine his passion for animals with his love of art: "While my car is charging, I have time for other things." And when you watch him while he is recharging in a café, then you immediately understand what this likeable Norwegian is all about. The 33-year-old insurance salesman splits his life between the chicken coop and art. He has lots of hobbies and plenty of interests. The car that allows him to combine them all and gives him a warm and cosy feeling inside when the temperatures drop outside is the e-Golf. "I am and about a lot. I could be picking something up for my chickens or transporting my pictures from A to B. The advantage of an electric car is that it can accelerate quickly. I don't miss normal cars, if that's what you would call a petrol-powered car. Lots of people would probably be surprised to learn how easy and convenient things are once you switch to your first electric car."
Always enough power for the whole family.
Lena regularly uses her electric car, both during the week and on the weekends. As the mum of two children, she is always on the go and is particularly impressed by how quiet her car is.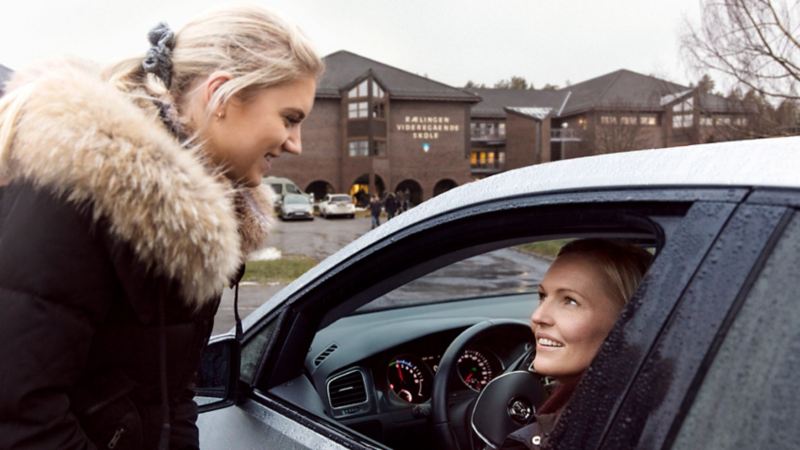 For Lena, driving time means family time. This became clear pretty quickly when we met the fitness-mad mum of two. She uses the time she spends driving around her daughters to talk to them about a range of topics: "That's why it is so good to have a car this quiet," says Lena. Lena also has a firm opinion on the topic of charging time: She either charges her e-Golf at home in the garage or while she's at work. It's a bit like dancing – the (charging) rhythm quickly gets into your blood. The 45-year-old would do anything for her family: if she's not out in the fresh air, then she's driving her daughters to dance lessons or gymnastics. That's how they stay in close contact. Her e-Golf allows her to spends lots of time with her daughters and talk them about anything and everything. "They are special moments – a time just for us. We use the time to be together. We talk about friends and what's going on in their lives. That's why it is so good to have a car this quiet. Driving an electric car is not a big change. You get into a rhythm and then everything is under control. We are lucky that we can charge the car at work or in the garage at home."

Range anxiety... What's that?!  
For Ginge, driving his e-Golf is just plain good fun. The electric car also gives him a better quality of life. He drives into the great outdoors for a chance to switch off from his job.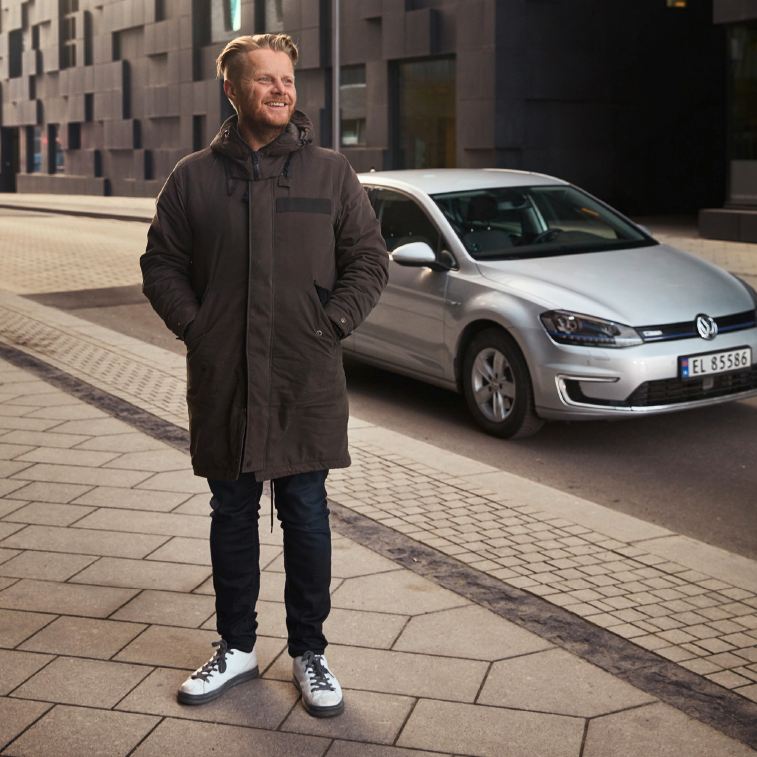 Rekkevideangst, known in English as "range anxiety", is the term Norwegians use to describe the fear that their electric car won't make it to its destination. However, this is an alien concept for Ginge. Driving his e-Golf is just plain good fun. And he is music-obsessed. Music is his life. Although anyone who spends their day surrounded by music also needs a bit of downtime. "The absence of sound is important. Peace creates space to think. Space to simply be." Something that is equally important to his love of music is his fascination with the universe. He has found an easy way to combine his passions. On the way home from the sound studio, he takes a quick detour to his very own "universe".  
The musician is a composer for films. This job alone keeps him out on the road a lot. To pre-heat his car on cold days, he uses an app. As a result, his e-Golf is already nice and warm when he gets in. And he always has enough battery to drive into the city and back twice – without having to recharge. "I used to have zero interest in cars. However, ever since I got my electric car, I have been constantly on the lookout for excuses to drive somewhere. Just because it is so much fun to drive! Before we bought our electric car, a new word was invented in Norwegian: rekkeviddeangst or range anxiety. However, I have never been scared of getting stuck somewhere while I'm out and about."