Visions of now:
Via Grafik
Visions of now:
Via Grafik
Building a digital work of art.

"Although you don't feel any physical resistance, it directly creates a visual result", says Leo in amazement. He is a graphic artist and part of Via Grafik, a design collective and design bureau with its origins in graffiti art. He encountered virtual reality for the first time and tried out a 3D software for us, which allows him to paint and draw in virtual space. The final result: a three-dimensional, digital artwork that he created in the space around the ID. concept car.
Due to his curly hair, the delicate features and his light smile, at first glance, one wouldn't believe that Leo once cranked up the whole graffiti scene. Yet he did. When he recounts how all that started, he begins in the schoolyard: "Well, it was a subcultural context - everybody was skateboarding and my friends started writing their names on walls and you just tried to imitate, to emulate." With the spray can in his hands, he learns to trust his intuition and understands that his gestures are able to compose a visually strong result.
His style changes and evolves, influenced by various genres. "I want my work to trigger something at first glance. It needs to leave an impression!" The digital sculpture, which he designed in our studio puts the ID. concept car into an unusual setting. But Leo also wants to keep the people interested in the long run and make them look at the details of his art.
He picks up quickly how to use the 3D controllers, which in combination with the VR glasses work like multi-function brushes and is fascinated by the intuitive handling. "Every slight click is followed by a direct visual effect," says Leo. He explains that this feature makes him work fast and fearless, as he can also undo each step easily. "I always react to what's already there and that's how it all comes into being – piece by piece. I have no concrete vision of how it will look like later." Virtual Reality seems to be his schoolyard for the moment.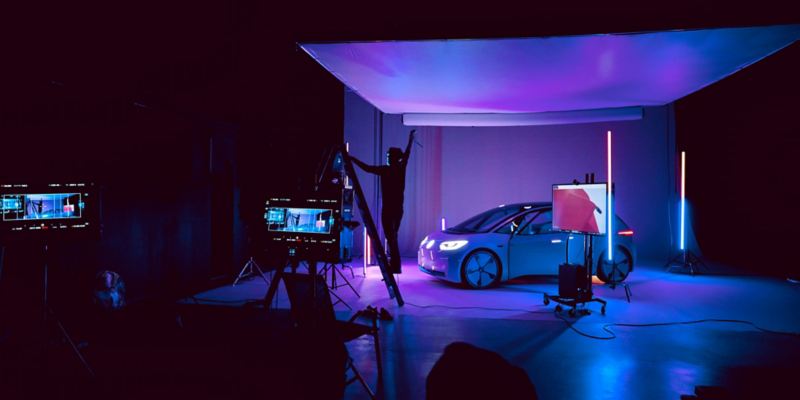 "Although you don't feel any physical resistance, it directly creates a visual result." – Leo Volland

"Although you don't feel any physical resistance, it directly creates a visual result." – Leo Volland