Electric cars are just as smart as they are sustainable, and really good fun. Gerhard Heinz certainly thinks so. Despite his ripe old age, the famous composer is tech-savvy and describes himself as an "early adopter" when it comes to new smartphone and computer technologies. We visited him in Vienna and were bowled over by the flexibility and inquisitiveness of this 89-year old.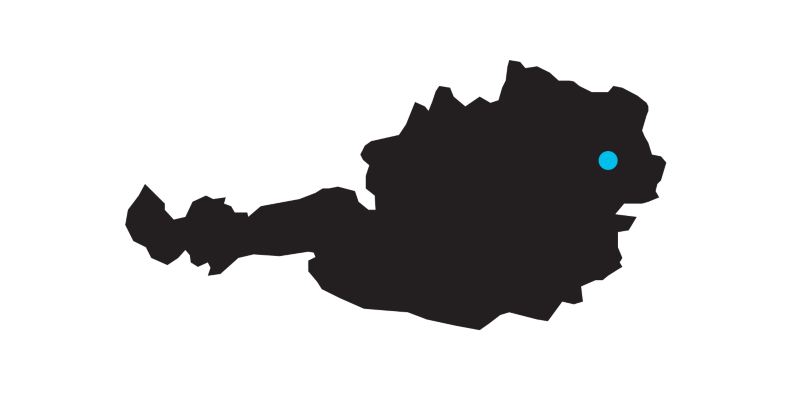 At 89, GERHARD HEINZ, known all over the globe as a composer of film music, is still passionate about technology. There's only one car that comes into consideration for him, and that's the e-up!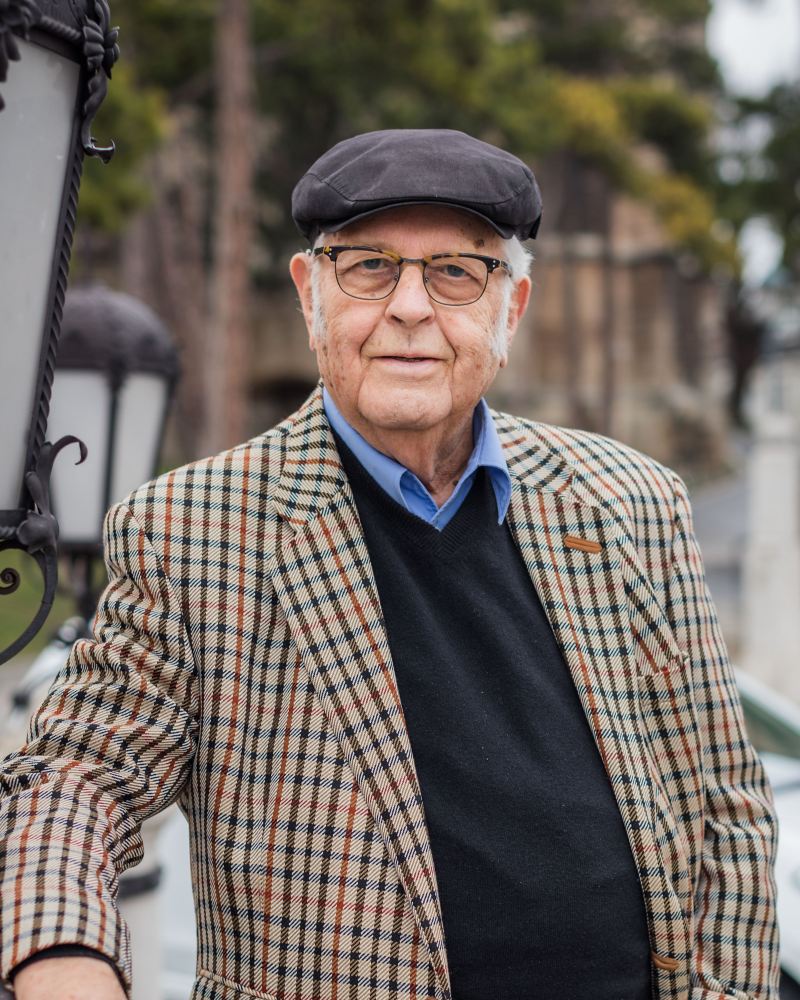 En route in Europe. At home in Vienna.
Gerhard Heinz feels at home on the streets of Vienna. The famous composer of film soundtracks drives everywhere in his e-up! proving that Volkswagen's electric cars have long since become a part of urban life. Whether driving in stop-and-go traffic or manoeuvring into small parking spaces, his car is simply ideal for city traffic. We wanted to know what the 89-year old in Vienna thought about driving an electric car, and of course in particular why he opted for the up! His answer makes perfect sense.
Over a cup of mélange in the Dommayer concert café.
Out of the famous Café Dommayer, and into the Volkswagen e-up! Electric and silent along Maxingstrasse in the 13th District of Vienna, past the zoo at Schönbrunn Palace towards Perchtoldsdorf. Gerhard Heinz loves to spend his afternoons in this picturesque little location on the southern edge of Vienna. Whether he's with his wife or on his own, his confectioner's of choice is the Konditorei Heiner, formerly purveyor to the Royal Court. "Let's roll!", that's Gerhard Heinz's motto. It's no coincidence that despite being almost 90 years of age, he sits behind the wheel as competent as if he were at least twenty years younger. For him, the ecological factor, or the environment, is an extremely important aspect of electric cars. But his main source of enthusiasm for electric mobility is his inquisitiveness.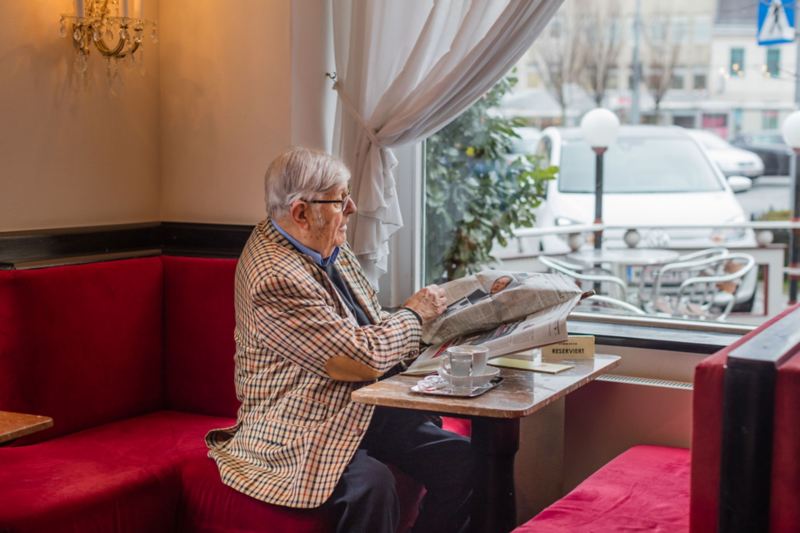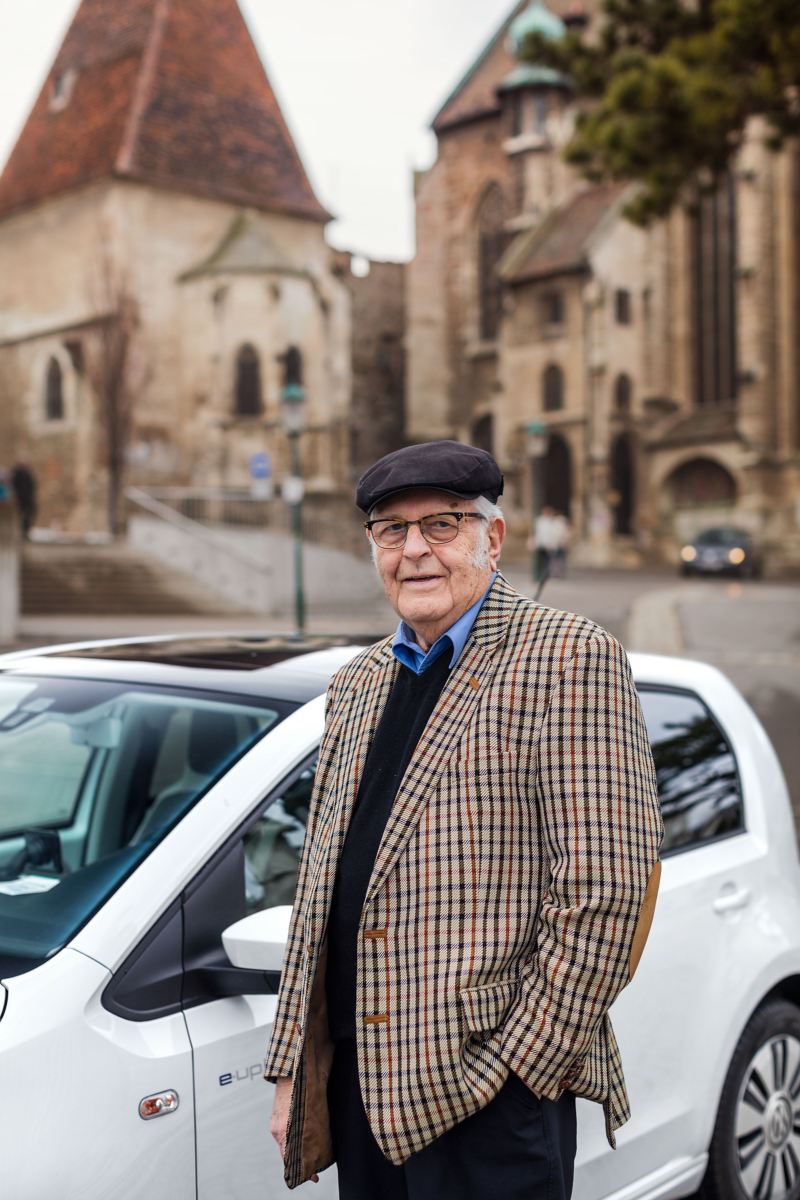 It's quite amazing. How can somebody of his age be so open to the constant changes in modern technologies? For one, it could be put down to Gerhard Heinz's  career. After graduating from the Technical University of Vienna, he wasn't an engineer, but he did become a star all over the world. His name is known to music experts and cinema goers around the globe as one of the most famous soundtrack composers in Europe. More than 130 films. Accompanying music and songs of the 60's, 70's and 80's. Comedy, drama and horror films. Gerhard Heinz is still a topic of conversation today. And he didn't lose a bit of popularity when he withdrew from the public eye. This is due in no small part to younger generations rediscovering his old classics. After all, he was the only musician in the 50's to have a Hammond organ and to incorporate this into his compositions. It won him numerous jobs for television and advertising at the time. The man from Vienna discovered his love for the e-up! at the motor show in his home town Vienna in 2014. He had been looking for an electric car that had everything he needed for some years, but without success. Then the tech-lover saw the compact but roomy e-up! and his mind was made up. The latest gadget to be installed in his e-up! was a rear view camera system. In the winter, he uses an app to heat the vehicle from the comfort of his breakfast table. There are enough charging stations in the near vicinity too – even in the quieter 13th District. Gerhard Heinz's plan now is to provide energy to the charging station in front of his house with solar cells on his roof. He also constantly has his eye on the growing number of available apps. The only thing he doesn't have a definite opinion on is music: "I really enjoy listening to the classic radio programme Ö1 when I'm driving, but I prefer to switch to the news programme before I get too immersed in the music." On that, the renowned conductor presses his foot down on the pedal and shoots off in front of the Viennese sports car drivers.